Will Solar work for me?
New Zealand has good solar resource. Almost everywhere in New Zealand receives more solar radiation than anywhere in Germany (which has the greatest installed capacity of PV solar in the world). The Queenstown region rates highly for a return on your solar investment. Our high annual average daily solar irradiation  (4.0kWh per square metre – the same as Nelson) coupled with our comparatively high cost of grid-supplied electricity makes both pv and thermal solar a great choice for reducing your power bill.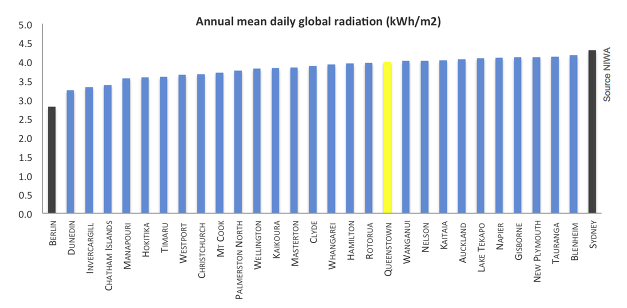 Which system should I choose?
We can help you choose which solar power system would be best suited to your requirements, depending on your energy goals, budget and roof area. The thing to keep in mind is that pv solar will produce electricity for all of your appliances (including your hot water cylinder if you have one), whereas thermal solar just heats your hot water.
What we offer
Whether you want PV Solar power or Thermal Solar, we can take care of the whole process from system design, to installation and commissioning – and we'll even deal with the Council or PowerNet on your behalf. We want you to have accurate information about the expected performance of your system, which is why we provide you with a no-obligation report of expected performance as part of your initial contact. Our products are chosen for their quality and reliability and are backed by warranty.