HEATING 
If you live in or around the Queenstown area you've got to have your space heating sorted. TaylorMade Plumbing & Solar can offer you expert advice on the best heating options for you. We know exactly how cold it gets in the Southern Lakes so you can be sure we won't install anything that won't cut the mustard. Whether it's Central heating or single heating appliances, we specialise in systems that we know will work for our unique environment. We also know that you don't want a heating system that is expensive to run, so we only recommend & install energy efficient systems that won't blow out your power bills.
If you don't know where to start we've put together some information below on most of the common heating options, so read on to find out which option might best suit you and your home.

HEATING SERVICES ∨
DIESEL BOILER CENTRAL HEATING
GAS FURNACE CENTRAL HEATING
AIR TO WATER HEATPUMPS
RADIATORS
UNDER-FLOOR HEATING
TOYOTOMI DIESEL HEATERS
SOLAR WATER HEATING
FIRE AND WETBACK
HEAT TRANSFER SYSTEMS
Choosing your Heating System
Before investing in a heating system make sure your house is well insulated. A dollar spent on insulation is better than a dollar spent on heating as any heating system will be expensive to run if you have a poorly insulated or draughty house.
New Zealand lags behind the 8-ball as far as Central Heating is concerned, and many homes in the Southern Lakes area (particularly those built at a time when it was mainly a summer holiday destination) are heated unevenly and poorly insulated. The World Health Organisation recommends your home should be heated to the temperatures shown.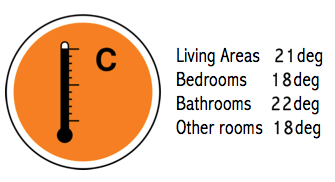 If you want the full-home comfort of central heating for your new build, or the more budget friendly option of single room heating, we've explained it all here.
---
Central Heating Systems
Central Heating refers to heating systems which distribute heat evenly throughout an area, as opposed to a single heat point like a fire or stand-alone heatpump.
Central Heating systems provide the ultimate in heating comfort with whole-house heating. They are convenient (easily controlled with thermostats and timers), and can be zone-controlled allowing you to heat different rooms to different temperatures. Central heating systems can be quite expensive upfront (see below for indicative prices) but often have lower running costs.
There are a number options when it comes to choosing a fuel source for your central heating system:
 Diesel Boiler Central Heating  ∨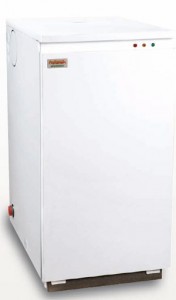 The diesel boiler heat source heats either or both of radiators and underfloor systems.  Diesel boilers are a cost-efficient heating option for many homeowners because they are very energy efficient and have relatively low running costs, ranging from 14.8-16.5¢/kW depending on the boiler, the current cost of diesel and the location of the home. The boiler itself is usually placed in a garage or similar. You will need to have a diesel tank installed, which requires QLDC consent. QLDC also require that a bund is added to the tank.  We are happy to take care of the consent process on your behalf if required.
It's important to get your diesel boiler serviced annually. We often have customers who call us to get their boiler serviced and if it hasn't been done for a few years it can be both dangerous and expensive. It's safer and cheaper to book in an annual service with us to make sure your diesel boiler is running efficiently.
 Gas Boiler Central Heating  ∨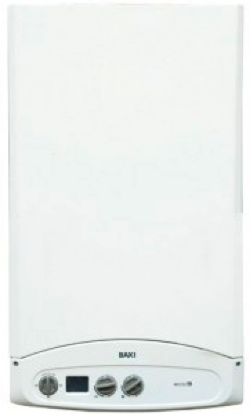 Gas boilers provide heat for radiator and underfloor systems equally well and can use either LPG or Natural Gas. This makes gas central heating a flexible option when determining which heating method is right for you. These systems are very popular and affordable in the North Island where the cost of reticulated Natural Gas is low making the cost per kWh the lowest next to geothermal heatpumps (at a quarter of the capital cost though). The cost & availability of mainly LPG bottled gas supplies in the Southern Lakes makes them more expensive to run than a diesel option. They are, however, cheaper to install and a smaller (and probably better looking) boiler unit. If you have a gas boiler for your under-floor heating and wonder why it's using a lot of gas see our Tips & Advice page.
Both types of boiler are virtually silent to run.
 Air to Water Heat Pumps  ∨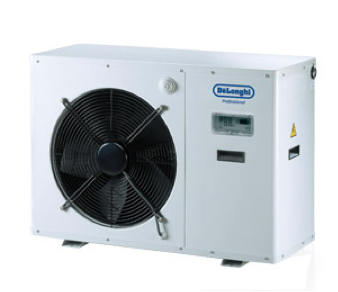 Unlike the common air-to-air heat pumps which circulate hot and/or cool air through a single room, air-to-water heat pumps (and geothermal heat pumps) supply warmth to the entire house via water through a pipe network. They are highly efficient and easy to use. Air to water heat pumps are most commonly used in conjunction with underfloor pipes, but the recent addition of high temperature hot water heat pumps means these units can now also be used with radiators – although these are more expensive to run.
Hot water heat pumps are very compact in size and can be fitted in any place. They can be used for heating purposes, as well as for the production of domestic hot water, or for both functions at the same time. The key here though is once on, keep it on – letting the water cool down can take up a lot energy (ie money) to heat back up.
 Radiators, Under floor or both?   ∨
There are two common ways of transferring the heat through your home with central heating: radiators and underfloor heating (both can exist in the same home). The best option for your home depends upon your lifestyle, budget and the heat source that you are using. It's really up to your preference. The key differences are set out below.
| | | | | | | |
| --- | --- | --- | --- | --- | --- | --- |
| | Time to heat | Aesthetics | Heat comfort | Retro-fit | Running cost | Type of home |
| Radiators | Respond quickly due to small mass | Take up wall space meaning furniture must be carefully considered | Radiant heat is produced near ground level but not under the floor making it less preferred than UFH | Radiators are a better option as the floor pad is already laid | Lower running costs over shorter periods of time | Areas where weather conditions are changeable of other factors which may require shorter periods of heating |
| Underfloor Pipes | 2-3hrs to heat floor, then 3hrs to warm up room. | Completely hidden so no aesthetic impact | Best heat profile as heat comes from under the floor (research suggests we are most comfortable when our feet are warmest) | Very difficult to lay underfloor pipes in existing pads | Greater perception of heat comfort means room temperature can be kept 1-2deg lower than radiators saving costs. UFH uses more fuel due to longer running periods | More suited to homes that have tiled/hard floor areas, or in homes constructed of block without wall battening. Needs to be kept on for long periods so less suitable in changeable climates |
---
Forced Air Systems
Forced air systems have a single point of heat source which distributes air around the room. Electric air-to-air heat pumps are a common option but they become less efficient as the outside temperature drops (exactly the opposite of what you need in a heat source) which is why diesel options are becoming more popular. Forced air systems are usually best as single room heaters but can work well if used in conjunction with a heat transfer system.
You won't get the same level of comfort as central heating systems, but the upfront cost is much more affordable.
---
Fire and Wetback Systems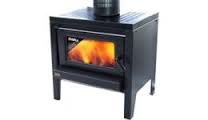 Nothing beats the comfort and mood of a classic fire. That's if you're keen on going out in the cold to get the wood! Woodburners are reasonably energy efficient and if you have access to free firewood your running costs are virtually nil. Still very popular and of course can be teamed with a heat transfer kit also, which TaylorMade Plumbing & Solar can supply and install. Woodburners have the added benefit of adding a wetback system to help save hot water heating costs (but this can take the heat away from your space heating). Of course careful thought must be given to the type of fire you install in the Southern Lakes due to clean burning rules, and remember you'll need building consent.
From the ORC website: From 1 January 2012 only woodburners meeting these standards are permitted in the Air Zone 1 towns of Alexandra, Cromwell, Clyde, and Arrowtown and in Milton:
All woodburners that have an emission discharge rating of 0.7g/kg of fuel burnt and an efficiency rating of not less than 65%.
All woodburners installed before 14 April 2007 in Alexandra, Arrowtown or Cromwell or 1 April 2009 in Clyde having an emission rate of less than 1.5g/kg of fuel burnt, and a thermal efficiency rating of not less than 65%.
The key factor is that approved new woodburners must have an emission discharge rating of less than 0.7g/kg.
Don't forget that if you live in Arrowtown, have a house that was built prior to 2000, and you are removing a non-compliant fire, you probably qualify for the ORC clean air subsidy of $1,500 to install a new compliant woodburner. TaylorMade Plumbing & Solar will do all of the paperwork for you. All you need to do is accept the discount!
---
Click here for an indicative cost of heating systems
TaylorMade Plumbing & Solar are accredited installers for